What is Baltic Amber, and How Does it Work?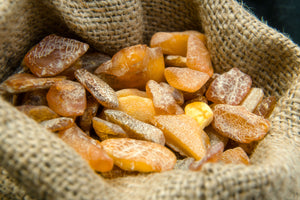 Q. What is Baltic amber?
A. Baltic Amber is fossilized tree resin (sap) from the Baltic region that dates from millions of years ago. It contains succinic acid, a natural pain-reliever and anti-inflammatory. Like all organic substances, Baltic amber comes in many shapes and sizes, each one unique. It has been used and loved since Neolithic times and it's no different today!  
We source our high-quality, certified Baltic amber from trusted suppliers in Lithuania. Check out how to test your amber here.                
Q. What does Baltic amber do?
A. When Baltic amber is worn against the skin, your body warmth causes the amber to release oil containing trace amounts of the succinic acid that your skin absorbs. When absorbed into the skin, it can relieve and/or help relieve symptoms of the following:
aches & pains

arthritis 

carpal tunnel

hand, wrist, and finger pain

joint pain

headaches & migraines

stress & anxiety

inflammation

pain & inflammation caused by teething

excessive drooling caused by teething

back & knee pains

pregnancy related pains

eczema

jaw pain & dental issues

TMJ

neck & shoulder pains

plantar fasciitis

Fibromyalgia
It also promotes natural healing, quality sleep, immunity, and an overall sense of well-being.
Q. What is a teething necklace?
A. Teething necklaces are worn by children to help reduce teething pain, drool, and general fussiness. They are used as a natural anti-inflammatory . They are worn around the neck, tucked under their clothes for skin contact.  They are only meant to be worn by the child, they are not a toy or meant to be chewed on.
Always supervise your child when wearing jewelry and remove for napping, baths, and sleeping. Some parents will wrap the necklaces around the child's ankle and cover with a high sock, sleepsack, or footie pajamas during sleep. 
The beads are 2mm to 6mm (size of a pea) in size. They are double knotted between each bead, so in the rare case the string accidentally breaks the beads won't scatter. 
A proper fit is also very important for safety. For infants, toddlers, and children who will try putting jewelry in their mouths, necklaces should be short enough that they can't get it in their mouth, but long enough that it isn't a choker. Check here for more sizing information. 
Q. Does it really work?
A. Mothers of teething children have been using Baltic amber for centuries to help with drooling, pain, inflammation, fussiness, nursing/latching, and sleep. Many of our customers report a positive difference anywhere from an hour to a day or two later. The first thing they usually notice is sleep has improved and the child seems to be much less fussy. Check out over 300 reviews on Facebook if you'd like to read some from our customers, and over 500 reviews on individual pieces on our website!
Q. Is there a difference between polished/unpolished, or color?
A. Raw, unpolished amber is unprocessed and untreated, therefore it's the truest form of amber. It contains an extra layer of succinic acid that has not been stripped due to polishing so it is the most effective. Raw, semi-polished amber will still work wonderfully, so choose based upon which one you like. We do not sell a product we don't believe in or recommend.
We advise our customers to choose the amber that is most appealing to you visually- it all works beautifully!  Please note that amber and crystals are a God-made natural material, so variations in color and shapes are normal. 
Founded in 2013, MacRae Naturals offers raw, certified Baltic amber teething necklaces and teething bracelets. MacRae Naturals also offers adult Baltic amber bracelets and Adult Baltic amber necklaces.
Leave a comment
Comments will be approved before showing up.
---
Also in News/Blog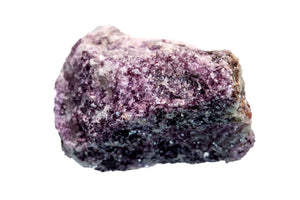 Lepidolite is known to detox skin, help with allergies, & supports the immune system. It is also known to help with joints, exhaustion, stress, anxiety attacks, PTSD and more! It makes a form of Lithium (naturally), found in some antidepressants & it is out of this world at helping stabilizing mood swings and emotions!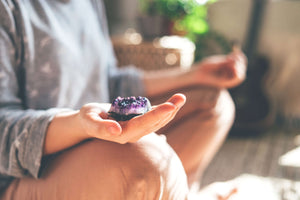 Crystals can be used to improve physical and emotional health, to clear and cleanse the atmosphere, and to encourage positivity and positive attitudes in group situations.